Hotel Information
Conference Hotel - Wyndham Pittsburgh University Center
This hotel was previously known as the Holiday Inn Pittsburgh @ University Center. It just recently changed its name to Wyndham. So if you attended the conference last year and stayed at the Holiday Inn, this is the same hotel just a different name.
With an enviable location in the heart of Pittsburgh's Oakland neighborhood and just steps from Carnegie Mellon and several world-renowned UPMC hospitals, the Wyndham Pittsburgh University Center hotel exemplifies the best among Pittsburgh hotels. Travelers looking for a hotel in the center of Pittsburgh's medical and educational district and walking distance to University of Pittsburgh will find this non-smoking hotel ideal, and leisure travelers will delight in the myriad of sporting events, shopping, dining and renowned attractions offered in the Pittsburgh area and within easy reach of this hotel.
After a long day of travel, guests can unwind with a relaxing dip in the heated indoor pool. Bridges Restaurant and Lounge offers upscale yet casual dining and affords guests the opportunity to enjoy breakfast, lunch and dinner without needing to leave the hotel.
A fully equipped fitness center is available for those who like to stay active or enjoy relieving the stress of a long day of conducting business. Guests enjoy the convenience of ample parking, available for a nominal daily fee, or may choose to leave the driving to the hotel by taking advantage of the complimentary shuttle service offered within a three-mile radius of this Pittsburgh University Center hotel.
Each of the 251 well-appointed guest rooms includes thoughtful amenities like plush bedding, an ergonomic work station, and free Wi-Fi Internet. Guests upgrading to an Executive Level room enjoy a private, key-access floor, plush bathrobe and access to the private club lounge. For those needing more space, the over-sized suites at this Pittsburgh hotel feature a separate living room with seating area, refrigerator and microwave.
Registration Information
Please register online at www.wyndham.com/hotels/47154. There is a special group rate for the conference. Use the block online booking link: 08076841FYC. The conference rate only applies up to Monday July 18, 2013.
Daily parking is provided at the hotel for $18.00/night
Wyndham Pittsburgh University Center
100 LYTTON AVE
PITTSBURGH, PA 15213 UNITED STATES
Hotel Front Desk: 1-412-682-6200 | Hotel Fax: 1-412-682-5745
http://www.wyndham.com/
Additional Hotels
The map shows the location of other hotels in the area. The conference is in Benedum Hall, it is located at the Yellow Star in the image. The Wyndham is item 4 in the image. Hotels 6, 7, and 8 are within walking distance. About a 15 minute walk. Hotels 1, 2, and 5 are close but too far to walk. An option if you stay in one of these other hotels is to drive and park at the conference. There is public parking in Soldiers and Sailors Memorial (the P in the image). It is located right next to Benedum Hall. Links to these other hotels are provided below the image.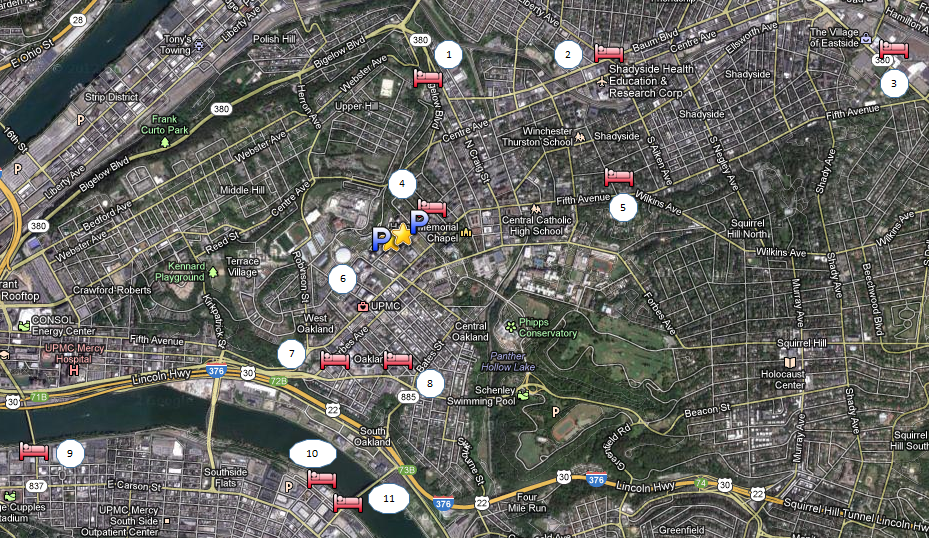 Links to the hotels shown above are given below:
Directions & Transportation to the Holiday Inn:
From Pittsburgh International Airport (PIT)
Distance: 23 MI / 37.01 KM South to Hotel
Shuttle Charge (one way): $21.00 (USD)
Taxi Charge (one way): $55.00 (USD)
Time by taxi: 35 minutes
Take Route 60 South to I-279 North. Follow signs for I-376 East, take Exit 2A. Follow until you get to South Bellefield Avenue and make a Left. Follow to Fifth Avenue and make a Left. Follow to Lytton Avenue and make a Right. Hotel on Right.
Driving Directions
Follow signs for I-376 East, take Exit 2A (Forbes Avenue/Oakland). This will put you right onto Forbes Avenue. Follow until you get to South Bellefield Avenue and make a Left. Follow South Bellefield to Fifth Avenue and make a Left. Follow Fifth Avenue to Lytton Avenue and make a Right. Hotel will be on Right.